About Midface Augmentation
The reason for all facial rejuvenation is an appreciation for normal aesthetic beauty and anatomy, the recognition of ageing changes, and the knowledge to use various techniques, procedures, and biomaterials to recreate a more youthful face. In the youthful face, fullness and volume abound and the beauty in the midface is usually referred to as "apple cheeks." This term pretty much says it all about youth, roundness and fullness.
Restoring volume and harmony to the midface can be done in about 20 minutes using fillers or threads. The whole procedure is done under local anesthesia, on an outpatient basis at a renowned aesthetic clinic such as Global Aesthetic in Malaysia. At Global Aesthetic, previously known as Skin Club by DermaGenesis, we have a team of skilled LCP Certified Aesthetic doctors led by Assoc Prof Dr Morthy, a renowned LCP Certified Aesthetic Physician and Trainer who are experts and have been trained extensively on the application and benefits of various advanced midface augmentation procedures.
Facial Aging & Volume Loss
Facial ageing in many ways is a process of deflation from volume loss. The sequelae of ageing result in deepening of the nasolabial folds, progressive hollowing of the cheeks, and loss of prominence of the malar eminences. The lower eyelid lengthens, increasing visibility of the orbicularis oculi muscle, coupled with the formation of tear trough and a crescent or "V"-shaped deformity along the maxilla and zygoma. There is a recession of the nasal alar cheek junction. Individual fat pockets become discernible as separate entities rather than the smooth transitions from convexities to concavities seen in youth.
In most cases, Asian patients have midface depression which appears in deep nasolabial folds or laugh lines and also giving awkward results after rhinoplasty. When the nose is augmented and the sides of the alar base areas are sunken, it can provide an unnatural appearance. These are essential parts that give our skin its youthful appearance of fullness, hydration, and a tighter glow. Implants will help to restore facial contours, define a jawline, and volumize an otherwise unbalanced facial structure. However, It is our view that no other facial injection site provides greater rejuvenation than the midface.
Fillers for Midface Augmentation
There is always the option to add filler to these areas to mask the depressions/hallowing and plump out the skin. Or, you have the option of adding volume to the cheek area/ upper face. Through this process we are also lifting the lower face, you could say we "kill two birds with one stone." Adding product to this region will help to restore the volume lost throughout the years to the midface and subtly lifting the lower face.
What products are good for this type of procedure? Juvederm® Voluma, Radiesse® and Restylane® Lyft. They are made of a more cohesive/thicker material that can hold and lift your skin where the product is laid.
• Juvederm® Voluma: Juvederm® Voluma is an Allergan® product, so you can utilize your BrilliantDistinction® benefits with the use of this product. Juvederm® Voluma is the latest, longest-lasting injectable facial filler that is FDA-approved to correct age-related volume loss in the cheek area. Juvederm® Voluma is a more cohesive form of Hyaluronic Acid with Vycross technology. We like to think of this as a thicker, stronger version of Juvederm® Ultra and Juvederm® Ultra Plus. Their crosslinking is associated with Allergan's® hylacross technology. Juvederm® Voluma successfully restores the fullness of the cheeks, which can, in turn, smooth out the skin on the lower face, lasting up to two years.
• Radiesse®: A Merz product, Radiesse® provides an instant lift by restoring lost volume in areas of the lower face, effectively treating moderate to severe wrinkles and folds. Radiesse® is comprised of Calcium Hydroxylapatite (CaHA) (constituent of bone and cartilage in a creamy, injectible form). Once injected, it provides immediate volume and correction but continues to work by stimulating the body to produce its own natural collagen. Over time, the gel is absorbed, and the body metabolizes the CaHA microspheres leaving behind only your own natural collagen, thus leaving a refreshed appearance that can last up to a year or more in many patients.
• Restylane® Lyft: A Galderma® product, Restylane® Lyft is another Hyaluronic Acid filler, approved by the FDA for cheek augmentation and the correction of age-related midface contour deficiencies, in addition to treating moderate to severe facial wrinkles and nasolabial folds. The longevity of Restylane® Lyft is approximately nine months to a year.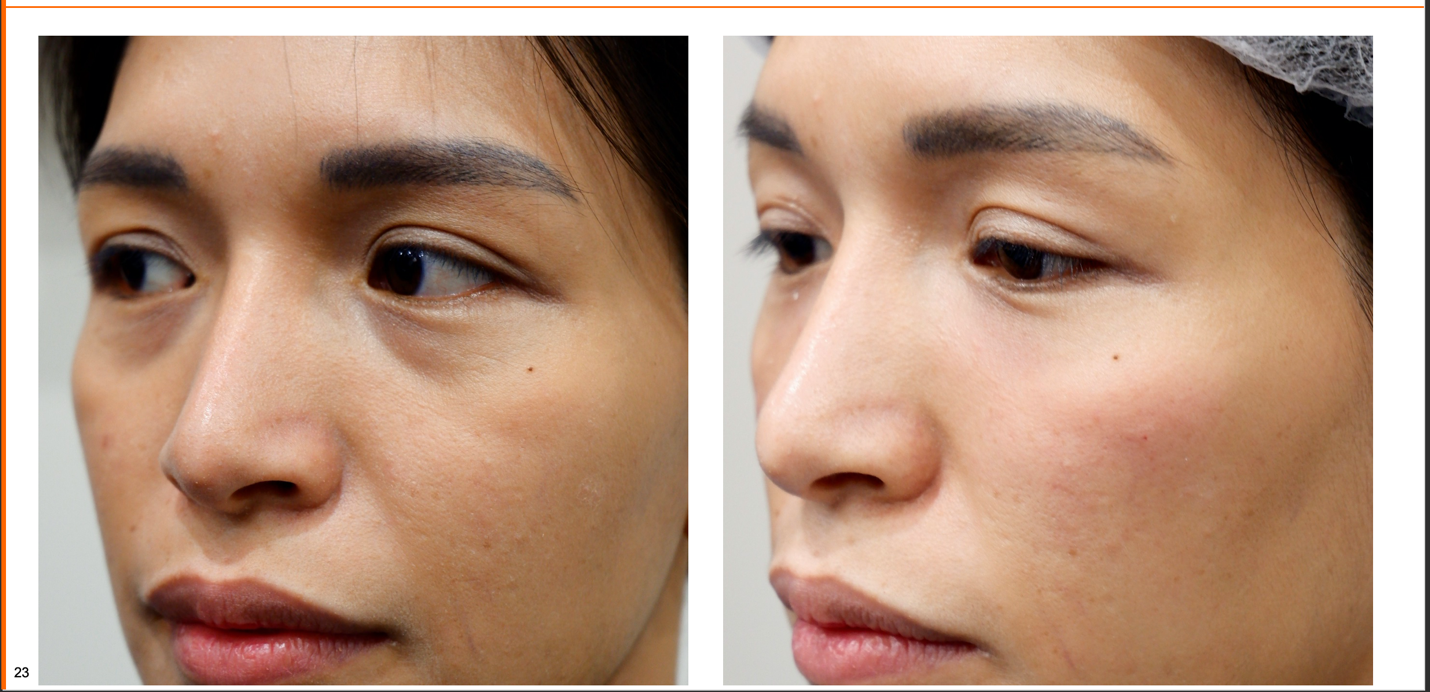 Learn More About How Our Procedures Can Help
Facial volume restoration and contour enhancement using dermal fillers have become a valuable addition to the aesthetic surgeon's armamentarium. These techniques are relatively quick to perform, have little downtime, and result in a high rate of patient satisfaction.
If you are interested in lifting your lower face, adding volume to your mid-face or trying to turn back the clock, these fillers are a wonderful choice. They are all performed in the office. The area to be treated is numbed with a topical agent, and the injections perform immediate results with minimal downtime. There is always a risk of bruising and swelling (as with all injections). We would ask that you refrain from the use of blood-thinning agents such as Aspirin, Ibuprofen, Advil, Aleve, Naproxen, Vitamins and Fish Oil for three to five days prior to the procedure to reduce bruising. Most bruising and swelling resolves over a one to two week period and can be covered by makeup until fully healed.
Fillers, alone or in conjunction with facial surgery, can restore facial harmony, balance, and beauty. Nevertheless, treatment of this area is not without its complications. Bruising, erythema, pain, infection, skin necrosis, over and under correction, and infraorbital nerve injury resulting in numbness and dysesthesia have been reported, regardless of the filler type (hyaluronic acid, calcium hydroxylapatite, poly-L-lactic acid) used. Nodules, lumps, visible material, and generalized and malar edema may also occur. Malar edema is a particularly significant adverse event because it is disfiguring, poorly tolerated by patients, can persist for months, and responds minimally, if at all, to treatment. So it is important that you are attended to by a fully qualified aesthetic physician.
Global Aesthetic - For All Your Aesthetic Needs
Keen for a younger and harmonious and well balanced facial feature? At Global Aesthetic, we are serious about aesthetics results as well as safety and affordability. Your treatments are meticulously designed and are performed by LCP-certified aesthetic physicians and board-certified surgeons only. Global Aesthetic is also in partnership with Aesthetic Academy Asia- www.aestheticacademy.asia a leading private institution that trains doctors and dentists in Aesthetic Medicine. Your procedures are done by Assoc Prof Dr Morthy - a renowned and leading trainer in Aesthetic Medicine. He has till date trained thousands of doctors across the world. If we train doctors to perform aesthetic procedures, you can be assured that you are in the best of the hands.
For more information about Global Aesthetic, visit our official website- http://www.globalaesthetic.com/.