About Dermal Fillers
Did you know that many visible signs of aging can be traced back to the loss of facial volume in the deep fat compartments? As facial tissues thin out, lines become etched around the nose and mouth and cheeks look a little hollow. Dermal fillers can replace lost volume to help smooth wrinkles, plump the lips, and restore a more youthful appearance.
At Global Aesthetics, we have a team of skilled LCP Certified medical aesthetic specialists and doctors led by Assoc Prof Dr. Morthy, a renowned LCP Certified Aesthetic Physician and Trainer who is an expert in the field of Aesthetic Medicine. With our insignia of "For All Your Aesthetic Needs" at Global Aesthetic we aim to deliver safe, effective, and affordable procedures. At Global Aesthetic, we also train doctors and nurses who are keen to excel in Aesthetics.
In this article, we will talk about dermal fillers, what are the common dermal filler types that you can opt for. So, read on -
What are dermal fillers?
Dermal fillers are injectables, that are completely biodegradable, biocompatible, and 100% natural. They are injected beneath the skin to restore lost volume, smooth lines, and soften creases, or enhance facial contours. The reason why people go for fillers is that as we age, we naturally lose collagen and fat. This leads to thinness and sagginess of the face, especially the midface, mouth, that lost collagen and fat and providing the patient with aesthetic, symmetric, and fuller facial features but also helps to create a more youthful appearance. While dermal fillers are commonly known as "wrinkle fillers," they can do much more than just smooth out wrinkles. They help to augment the nose & chin and plump & enhance the lips, restore volume to sunken cheeks or temples, diminish vertical lip lines, and improve facial symmetry.
What are dermal fillers made with?
Hyaluronic acid
Hyaluronic acid fillers are regarded widely as the most common type of dermal filler. These lip fillers help to accomplish a natural, more voluminous look with satisfactory results. The Hyaluronic acid-based brands Juvederm, Restylane, and Teosyal are the most popular injectable fillers. They consist of highly viscous hyaluronic acid gel with high filling capability, and they last for about 8 to 10 months.
Calcium Hydroxylapatite
Calcium hydroxylapatite (CaHA) is an injectable dermal filler that contains uniform CaHA microspheres suspended in an aqueous carboxymethylcellulose gel carrier. It is considered a long-lasting, but non-permanent filler, and is highly biocompatible with facial tissue. It also helps to stimulate natural collagen growth – known as "collagen-genesis". It is typically used to add volume to the midface area, popularly known as midface augmentation or temples, and improve overall symmetry among facial features
Agarose - Algeness
Algeness made from purified agarose gel, is a new and absorbable dermal filler indicated for the correction of soft facial tissues. Algeness will eventually be metabolized by the body after 8 to 10 months. It is also known to be a bio-stimulator type of filler that helps in improving skin texture & complexion. Clients who have done Algeness normally notice that their skin is firmer, smooth and with less open pores.
Polycaprolactone
The non‐Hyaluronic acid bioresorbable polycaprolactone (PCL) based filler with collagen‐stimulating properties has proven to be highly effective to fill in lines above the lips, smooth wrinkles, and restore a more youthful appearance.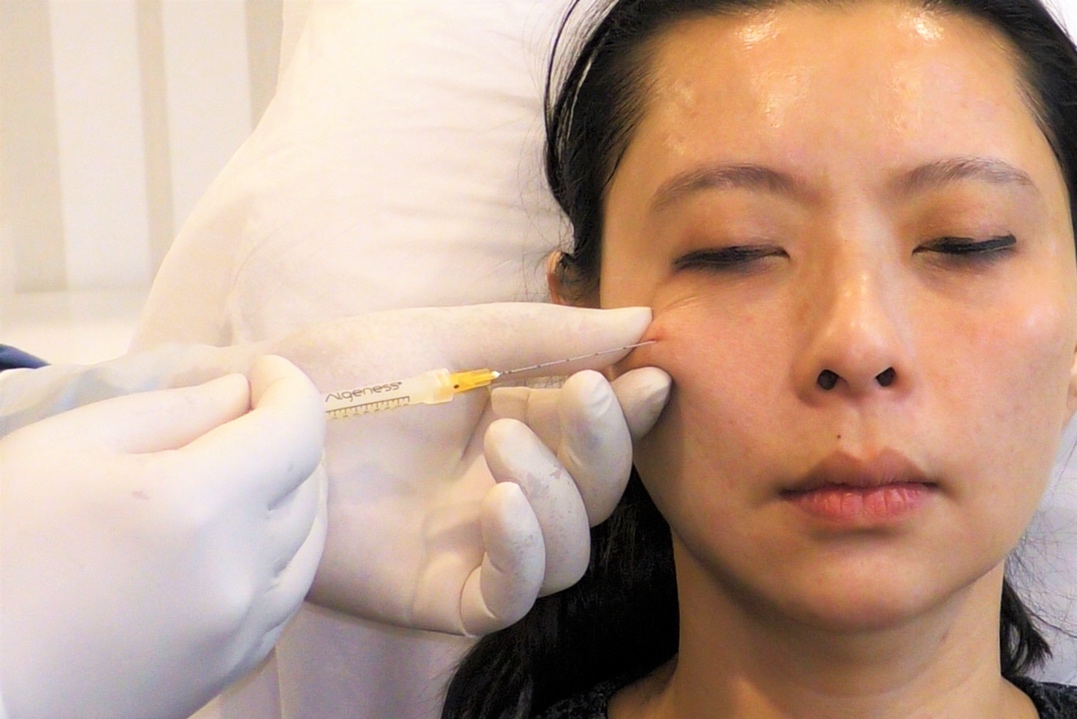 Read more in our next section on how the procedure is done, do's & don'ts and side effects.
How are Dermal Filler procedures done?
In today's time, a cosmetic procedure like filler treatment is majorly done using hyaluronic acid-based fillers. Dermal Filler procedures should be best done by trained & skilled cosmetic injection specialists.
The filler procedure starts with a proper analysis of the facial features and the desired result. The aesthetic practitioner will then assess the area of treatment, for example, nose augmentation. A numbing agent or local anaesthesia is used to ease any discomfort. The filler is then injected and the area is massaged after the injection. Different injection technique and approach applies to the different treatment area. With the advancement in technology, and depending on the type, fillers are capable to last effectively up to twenty months at a time.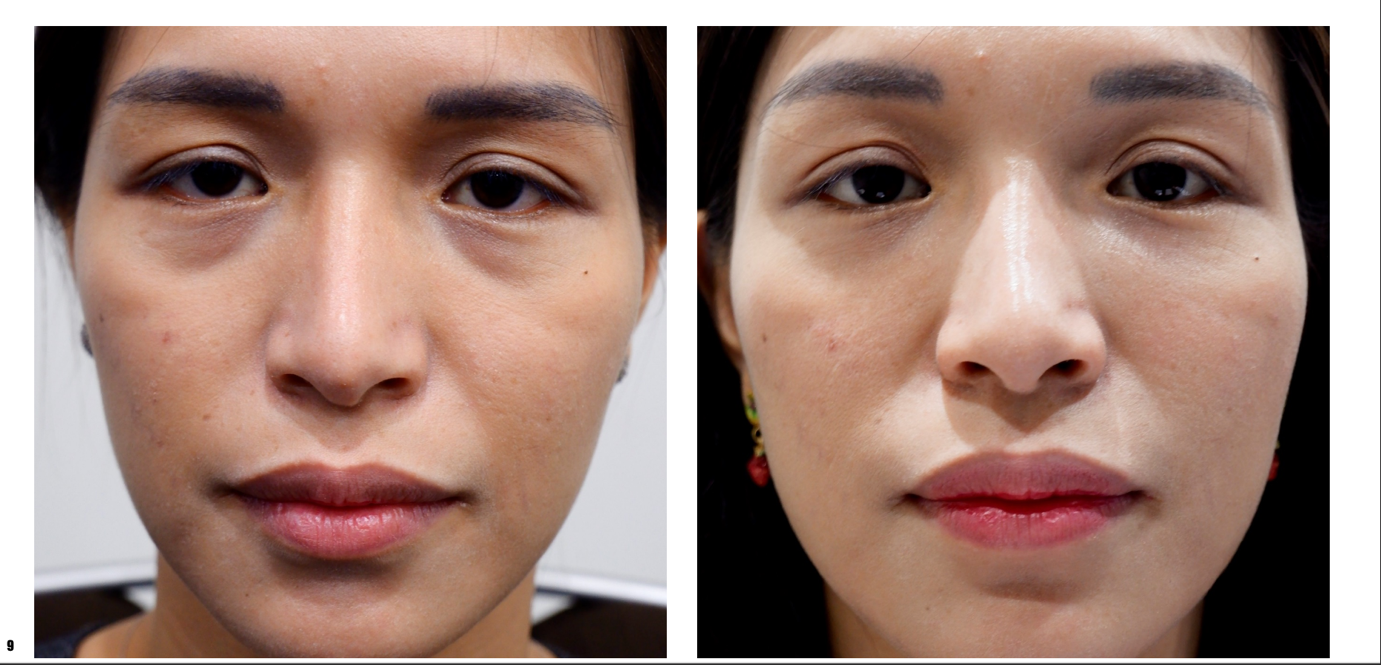 Why is it important to choose the right doctor?
Choosing the right doctor is crucial because injecting dermal fillers can be dangerous if administered incorrectly. Your doctor should-
Be aware of the principles of procedure
Your aesthetic practitioner must know the principles of dermal filler procedure, the type of dermal fillers that will work best for you, injection technique, and be through with the selection of needle or cannula.
Have knowledge about the patient and procedure
A good practitioner must discuss the following steps with you before administering the procedure:
The type of dermal filler that is suitable for you and why did the doctor choose that.

The type of pain management

Duration of action or longevity of the procedure

What are the possible complications and how to treat them if it occurs?

What to expect after the dermal filler procedure?

And the obvious do's and don'ts after a dermal filler procedure

Advanced cosmetic procedures at Global Aesthetics
At Global Aesthetics, our team of skilled LCP Certified aesthetic medical specialists and doctors are led by Assoc Prof Dr. Morthy, a renowned LCP Certified Aesthetic Physician and Trainer. We ensure our doctors have a solid understanding of facial anatomy, dermato-cosmetics, aging skin, as well as the science behind the technologies and procedures. With an insignia of "For All Your Aesthetic Needs", our aim is to first understand your facial features & proportions, deliver safe & effective aesthetic procedures and restore your beauty & confidence.
At Global Aesthetics, we also offer
Laser Skin Rejuvenation to refresh & rejuvenate your skin with our elite collection of Lasers.

Skin Booster Rejuvenation to refresh & renew your skin with our new generation of Skin Boosters.

Chemical Skin Rejuvenation to get brighter & radiant skin with our Chemical Skin Rejuvenation.

Total Facial Augmentation to enhance your features with our Signature Augmentation Procedure.

Jawline & Facial Reshaping to get a smooth & sharp "V" shaped face with a well-defined jawline.

Facial Fat Reduction to get rid of unwanted facial fat with our clinically proven treatment.

Botox, Fillers & Booster to restore a naturally youthful look with our Signature combination.

PDO & Aptos Thread-lift to restore your skin's firmness with our PDO & Aptos Thread-lift procedure.

Tissue Regeneration to restore youthful skin with our Tissue Regenerative procedure.

Excessive Sweating our clinical treatment guarantees to reduce excessive sweating.

Cellulite & Stretch Marks to get rid of cellulite and stretch marks with our clinically proven cellulite reduction treatment and stretch marks treatment

Tattoo Removal to remove your unwanted tattoos with our state-of-the-art Lasers.
Assoc Prof Dr. Morthy of Global Aesthetic is also an internationally renowned trainer who is currently the course director for Aesthetic Academy Asia (www.aestheticacademy.asia) - a leading private institution that provides Aesthetic Medical training for doctors, dentists, nurses, aestheticians, and spa owners. For more information about Global Aesthetics, please visit our official website.