Benefits Of Skin Booster Treatment
IIWAM – International Institute of Wellness &Aesthetic Medicine is a One-Stop Centre of Excellence in Wellness &Aesthetic Medicine.IIWAM Aesthetic Education (previously known as Aesthetic Academy Asia) provides evidence-based Aesthetic Medical courses with Dual International Certificates for Medical Doctors, Dentists, Nurses & Certified Aestheticians. IIWAM Aesthetic Education is backed by a comprehensive Online Library & Learning Portal. IIWAM team of trainers specialize in Aesthetic Medicine and provide a range of Advanced Cosmetic Procedures for all walks of life as well. IIWAM is the Future of Aesthetic Medicine.
In a recent article, we spoke about the difference between skin boosters and dermal fillers. (Read the blog here- (Skin Booster vs Dermal Fillers). In today's article, we will help to educate you further on the various benefits of skin booster treatment.
About Skin Boosters
In layman terms, skin boosters are basically micro-injections filled with dermal fillers for the skin. Unlike traditional dermal fillers, skin boosters are not injected beneath the skin in order to volumize or shape the cheek or lip area. Instead, skin boosters are injected into the skin to hydrate and improve the overall skin quality thereby making the skin look and feel fresh and rejuvenated. Injectable skin boosters can be injected over large treatment areas such as the face, neck, and hands. During the course of treatment, multiple injections are injected to activate the fibroblasts and promote new collagen and elastin formation thereby resulting in overall skin rejuvenation with newer healthy-looking, glowing and plump skin.
One of the main ingredients in skin boosters is hyaluronic acid. Because of the hydrophilic properties of hyaluronic acids, they tend to attract water from the surrounding tissues, which helps in further augmenting soft tissue volume more than what is expected from product implantation alone. This in turn results in the overall improvement of the appearance of the skin on the face, neck, décolletage, and hands.
Hyaluronic acid is also naturally produced by the body and acts as a lubricant for the muscles and joints so that one can move without discomfort and pain. The injection of skin boosters leads to collagen synthesis. Collagen is the main material that is responsible for increasing overall skin elasticity and smoothness. Since skin booster injections tend to improve collagen production, the dermis is thickened thereby helping in the bio revitalization of the skin. The overall skin becomes smoother as compared to prior to the procedure.
Skin Boosters Injection Procedure
Skin boosters are injected with the help of a mesotherapy gun or just a needle, depending on the experience and preference of the doctor. However, it should be performed by a trained doctor with a sound understanding of skin anatomy & physiology, as well as booster science.
The treatment area should be first cleaned properly. A topical or local Aesthetic agent should be used to minimize the discomfort. The doctor may choose to use a mesotherapy gun or just a conventional needle & syringe. Mesotherapy guns are machines that tend to use a 9-point needle system in order to deliver a specific amount of skin booster to a specific depth of the skin, whereas, an experienced doctor may just pinch and elevate the skin while injecting into the mid-dermis area.
Benefits Of Skin Booster Treatment
Improves skin's moisture levels
Skin boosters contain hyaluronic acid (HA), the vital essence that tends to play an important role in balancing skin's natural moisture levels. Without moisture, the skin tends to dry, resulting in wrinkles, fine lines, enlarged pores, uneven skin tone, texture, and complexion.
Enhances skin's natural glow
Hyaluronic acid delivers a dose of hydration to the skin, giving the appearance of glowing, healthier-looking skin.
Hyaluronic acid is also responsible for the skin's natural repair system, allowing for proper healing and overall tissue remodeling.
Helps to boost skin elasticity
The protein that is responsible for maintaining the skin's elasticity is elastin, and lack of elastin can result in sagging skin or wrinkles.
The body tends to produce elastin and collagen as one grows. However, as with age, the rate of production of these primary youthful proteins declines and their skin ends up looking tired & dull. The hyaluronic acid in skin boosters helps in improving the overall production of elastin.
Lightens acne scars
Hyaluronic acid in skin boosters is also responsible to regulate the skin's natural repair system, thereby reducing inflammation and scar formation. It also promotes the formation of blood vessels, elastin, and collagen.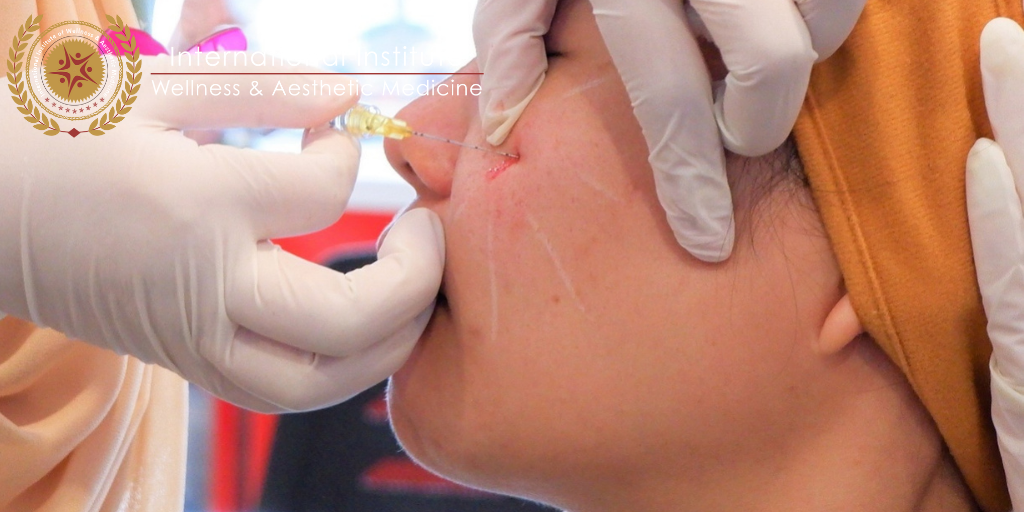 About IIWAM Training In Skin Boosters Injection
It is prudent that all Aesthetic practitioners must undergo proper training in Aesthetic Medicine. The practitioner must balance between benefits & risks of the Aesthetic procedure, and steps to mitigate complications if it occurs. At IIWAM, we call it, understanding the procedure, the product, and the patient, and our trainers pay utmost attention to teaching the following subjects when it comes to skin booster treatments under the best cosmetology courses in skin boosters.
What are skin boosters?

What are the different types of skin boosters?

Ingredients in skin boosters?

Difference between High Molecular Weight and Low Molecular Weight Hyaluronic Acid

What are cross-linked and non-cross-linked Hyaluronic acid?

What are the risks of skin boosters?
IIWAM also offers Online Aesthetic Certification programme for Non-Surgical Body Sculpting, Advanced Dermal Filler Training (Restylane, Juvéderm, Teosyal, Bellotero), Advanced Botulinum Toxin Training (Botox, Dysport, Xeomin), Skin Booster Training (Restylane Skin Booster, Profhilo, Rejuran), Platelet Rich Plasma (PRP) Training, and Thread Lift Training (PDO, Aptos, Happy Lift). IIWAM is now certified to conduct Diploma in Cellular Medicine program, where doctors are trained on the science of Stem Cells and Regenerative Medicine.
About IIWAM Aesthetic Education
At IIWAM, we provide an International Aesthetic Certification program and also Advanced Online Aesthetic Courses for Doctors, Dentists, Nurses, Aestheticians, and Spa Owners in the field of Aesthetic Medicine.
Our Institute is based in Malaysia and has international students from the Philippines, Myanmar, Cambodia, India, Indonesia, and other parts of Asia. With our insignia of "Be Certified, Be Recognized", we develop knowledgeable, skilled, and confident Aesthetic practitioners of international repute. Our Aesthetic training focuses on teaching the principles of Aesthetic procedures before venturing into Aesthetic clinical skills. IIWAM training Programs are a combination of Onsite Training, LIVE Online Webinars, and Online Learning. IIWAM is the first Institute in the World to have its Programs assured by City & Guilds of London and certified by European International University. IIWAM is also a registered CPD Training provider with CPD Standards Office in the UK and by CPD Malaysian Medical Association.
Onboard is our Assoc. Prof Dr. Morthy, the lead trainer, medical director of the International Institute of Wellness &Aesthetic Medicine (IIWAM), formerly known as Aesthetic Academy Asia (http://www.iiwam.ac/).
In the Aesthetic part of our Institute, we provide Advanced Aesthetic Medical Procedures that are Safe, Effective, and Affordable, offering a wide range of specialized treatments for All Your Aesthetic Needs.