About Q Switch Lasers
IIWAM – International Institute of Wellness &Aesthetic Medicine is a One-Stop Centre of Excellence in Wellness &Aesthetic Medicine.
IIWAM Aesthetic Education (previously known as Aesthetic Academy Asia) provides evidence-based Aesthetic Medical courses with Dual International Certificates for Medical Doctors, Dentists, Nurses & Certified Aestheticians. IIWAM Aesthetic Education is backed by a comprehensive Online Library & Learning Portal. IIWAM team of trainers specialize in Aesthetic Medicine and provide a range of Advanced Cosmetic Procedures for all walks of life as well. IIWAM is the Future of Aesthetic Medicine.
In a recent article, we spoke about the major differences between Q-Switch Lasers and Pico Lasers. (Read the blog here- Q-Switch Lasers VS Pico Lasers).
In today's article, we will help to educate you further on Q-Switch Lasers and about the various benefits of the same.
About Q Switch Lasers
Q-Switch Laser is a type of non-ablative Laser that tends to release Laser beams in pulses per nanosecond, typically around 3-7 nanoseconds in length. The Laser beam that is originally produced is directed onto a polarizer, known as "Quality Switch", hence the name Q-Switch. The beam that is released after passing through the polarizer gains much momentum and travels 6 times faster, which is the nanosecond domain. The speed of 10 to the power of 3 is amplified to 10 to the power of 9. This Laser beam of nanosecond speed, when directed onto the skin, tend to destroy the overproduced pigments into much smaller particles. These particles are then absorbed by the body and released by the immune system over time. It is commonly used to treat various pigmentary disorders such as post-inflammatory hyperpigmentation, melasma, acquired bilateral nevus of Ota-like macules and other epidermal or dermal pigmentation with minimal downtime. It is also ideal for tattoo removal.
With the advancement of science and technology, several varieties of Q-Switch Lasers are now available in the market in today`s time– ranging from Ruby (694 nm), Alexandrite (755 nm), or NdYAG with dual-frequency (532 nm and 1064 nm).
The Q-switched Nd: YAG Laser has two wavelengths – a longer wavelength of 1064 nm and a shorter wavelength of 532 nm. The longer wavelength of 1064 nm is ideal for dermal lesions due to its deeper penetration and poor absorption in epidermal melanin, while the 532 nm wavelength is ideal for epidermal pigmented lesions such as freckles &lentiges.
The NdYAGLaser beam specifically targets melanosomes in melanocytes, keratinocytes, and melanophages, at the epidermal and dermal depths, The Laser's ultra-short pulse width (in nanoseconds), and adjustable spot size are key factors that allow effective targeting of pigment cells. Depth of penetration and selectivity are functions of the wavelength of a Laser.
The principal Laser-skin interaction observed in dermal melanocytosis by Q-switched Nd: YAG Laser treatment is based on photothermal, and photomechanical interactions induced by selective photothermolysis. The 1,064 nm Q-switched Nd: YAG Laser can cause dermal and epidermal melanosome rupture and destruction of dermal melanophages.
Do's &Donts During Q Switch Laser Treatment
Treating pigmentary disorders especially in dark skin requires some precautions in order to get the best results, such as:
Strict sun-protective clothing and use of broad-spectrum sunscreens of SPF at least 30 prior to starting Laser treatment and throughout the course of Laser treatment.

Proper priming with skin-lightening agents such as hydroquinone, kojic acid, and/or other non-hydroquinone skin lightening agents, at least 2 to 3 weeks prior to the initiation of Laser treatment.

Performing all the required tests prior to the Laser treatment procedure.

Individualizing the various treatment parameters based on the patient`s requirements and medical conditions.

Use of a Laser with a "top-hat" beam profile, large spot size, and lower fluences in darker skin types.

Avoid stacking and too much overlap while treating.

Cool the treated area with a postoperative ice pack for a few minutes.

Application of emollients and a steroid ointment for 3 to 5 days (if blistering or crusting are anticipated).
Risk And Benefits of Q Switch Laser Treatment
Q Switch Laser treatments are relatively safe if performed by a trained or certified Aesthetic practitioners. The Aesthetic practitioner need to be well trained in terms of the principle of Laser, types of Lasers, Laser techniques, depth of Laser penetration, and Laser-tissue interaction so that they can properly administer the Laser treatment
However, in the wrong hands, complications can occur. Complications of Laser treatment include thermal burns which can be so intense to a point it may cause discoloration of the skin, scarring, infection, reactivation of herpes simplex infections, and even facial disfigurement.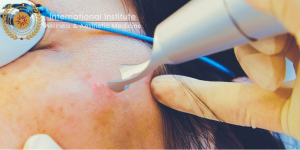 About IIWAM Training In Q Switch Laser
It is prudent that all Aesthetic practitioners must undergo proper training in Aesthetic Medicine. The practitioner must balance between benefits& risks of the Aesthetic procedure, and steps to mitigate complications, if it occurs. At IIWAM, we call it, understanding the procedure, the product, and the patient, and our trainers pay utmost attention to teaching the following subjects when it comes to in Laser science in our Online International Cosmetology Training program.
Principles of Selective Photothermolysis

What are the principles of Q-Switch Laser?

What is Laser-tissue interaction?

What is the difference between long-pulse and Q-Switch Laser?

What is the difference between Q-Swicth and Pico Lasers?

How does Q-Switch Laser work?

What are Q-Switch Laser complications?

How to treat laser complications?
IIWAM also offers Online Aesthetic Certification programme for Non-Surgical Body Sculpting, Advanced Dermal Filler Training (Restylane, Juvéderm, Teosyal, Bellotero), Advanced Botulinum Toxin Training (Botox, Dysport, Xeomin), Skin Booster Training (Restylane Skin Booster, Profhilo, Rejuran), Platelet Rich Plasma (PRP) Training, and Thread Lift Training (PDO, Aptos, Happy Lift). IIWAM is now certified to conduct Diploma in Cellular Medicine program, where doctors are trained on the science of Stem Cells and Regenerative Medicine.
About IIWAM Aesthetic Education
At IIWAM, we provide International Aesthetic Certification program and also Advanced Online Aesthetic Courses for Doctors, Dentists, Nurses, Aestheticians, and Spa Owners in the field of Aesthetic Medicine.
Our Institute is based in Malaysia and has international students from the Philippines, Myanmar, Cambodia, India, Indonesia, and other parts of Asia. With our insignia of "Be Certified, Be Recognized", we develop knowledgeable, skilled, and confident Aesthetic practitioners of international repute. Our Aesthetic training focuses on teaching the principles of Aesthetic procedures before venturing into Aesthetic clinical skills. IIWAM training Programs are a combination of Onsite Training, LIVE Online Webinars, and Online Learning. IIWAM is the first Institute in the World to have its Programs assured by City & Guilds of London and certified by European International University. IIWAM is also a registered CPD Training provider with CPD Standards Office in the UK and by CPD Malaysian Medical Association.
Onboard is our Assoc. Prof Dr. Morthy, the lead trainer, medical director of the International Institute of Wellness &Aesthetic Medicine (IIWAM), formerly known as Aesthetic Academy Asia (http://www.iiwam.ac/).
In the Aesthetic part of our Institute, we provide Advanced Aesthetic Medical Procedures that are Safe, Effective, and Affordable, offering a wide range of specialized treatments for All Your Aesthetic Needs.